Flowers to Wear
Beautiful Wedding Flowers to Wear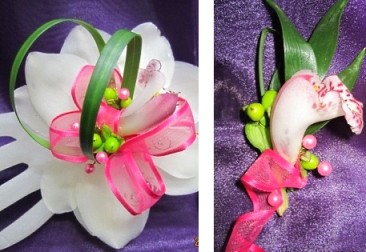 Special Corsages ~
Choose a corsage that best represents the woman who will be wearing it. Corsages are usually worn by the mothers and grandmothers of the bride and groom and can be made in many different styles with many different types of flowers.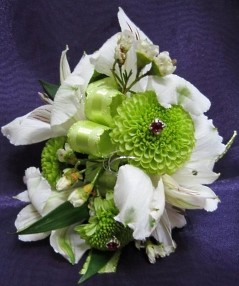 Beautiful Boutonnieres ~
Take cues from the bridal bouquet when selecting flowers for boutonnieres. Incorporate a few of the same flowers and similar colors to tie the floral pieces together.
Prom Corsages and Boutonnieres
While the wrist corsage is still the most popular prom corsage choice, prom beauty should be from head to toe with festive corsage choices available.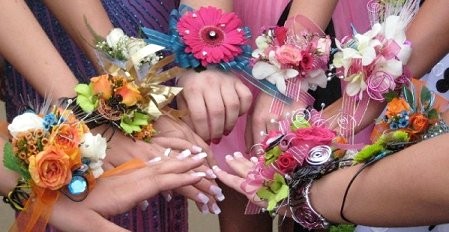 Popular Wrist Corsage with Matching Flower Ring.
Princess Tiara with Flowers... take an up-do hairstyle from simple to glamorous!
Personalized Corsages Bedazzled with

tiny faux jewels and decorative wire for added movement and sparkle, glitter, pearls, funky sequins, elegant gems, coral, etc.
Corsages are an extra touch to make a special event or person even more memorable. Body flowers can be customized to match an individual's personality, clothing, favorite colors or the event for which they are intended.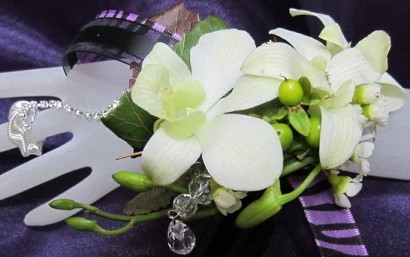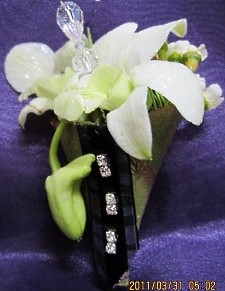 Boutonnieres do not have to be run-of-the-mill anymore. Boutonnières are an added touch to make a special event more memorable.
Boutonnières, worn on the lapel, can be customized to match an individual's attire or coordinate with your date's corsage.
Orchids and callas can make unique boutonnieres by themselves or with interesting embellishments as well.